Rivershore Community Involvement
The owners and employees participate in many worthwhile endeavors in support of our community and neighbors in the greater Kamloops region. Below is a small sample of past involvement. If you have a community event or fundraiser that we may be able to help with please contact us .
The CIS/CCA University Curling Championships are being held in Kamloops from March 20th-24th and we couldn't be more proud to be a sponsor of TRU's Krausher rink. Good Luck ladies we are all cheering for you!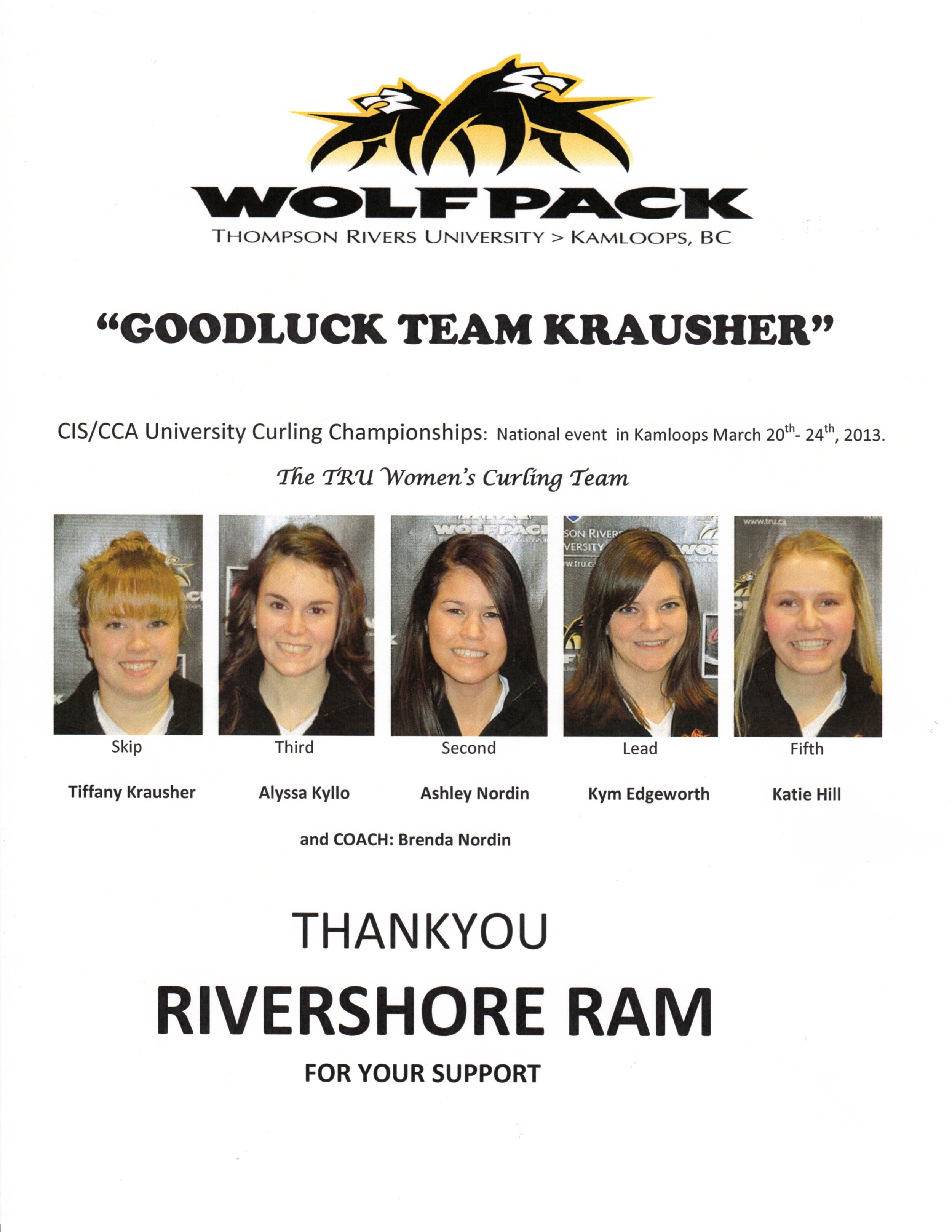 The Big Kahuna 9 is taking place at Whispering Pines Sunday April 21st!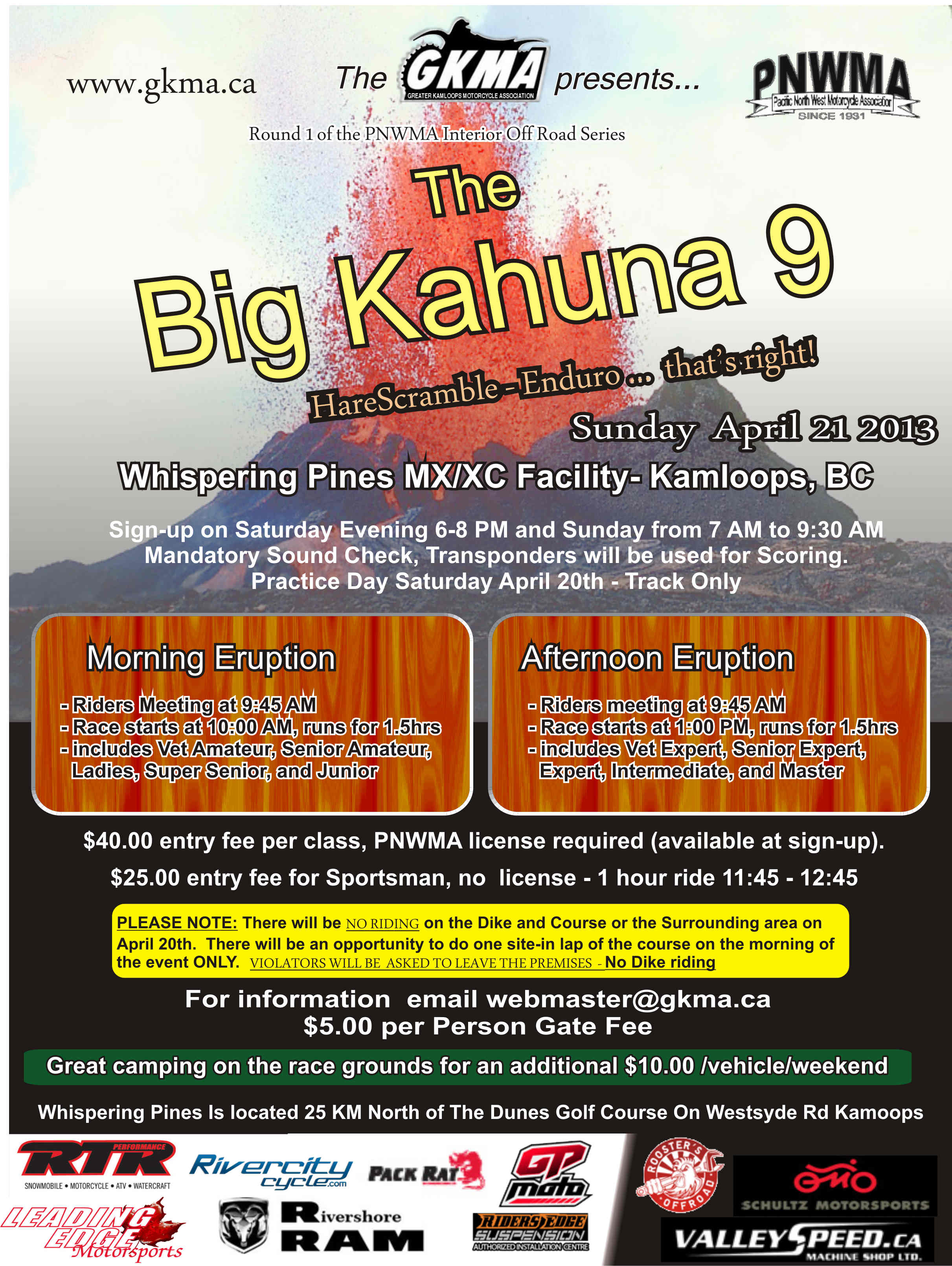 This year we put on our running shoes and geared up for the CIBC Run for the Cure that took place on Sept. 30th at Riverside Park. We had a team of 20 employees sign up for the run and we couldn't be more proud of our staff.
Rivershore Ram is a Proud Sponsor of the GKMA (Greater Kamloops Motorcycle Association)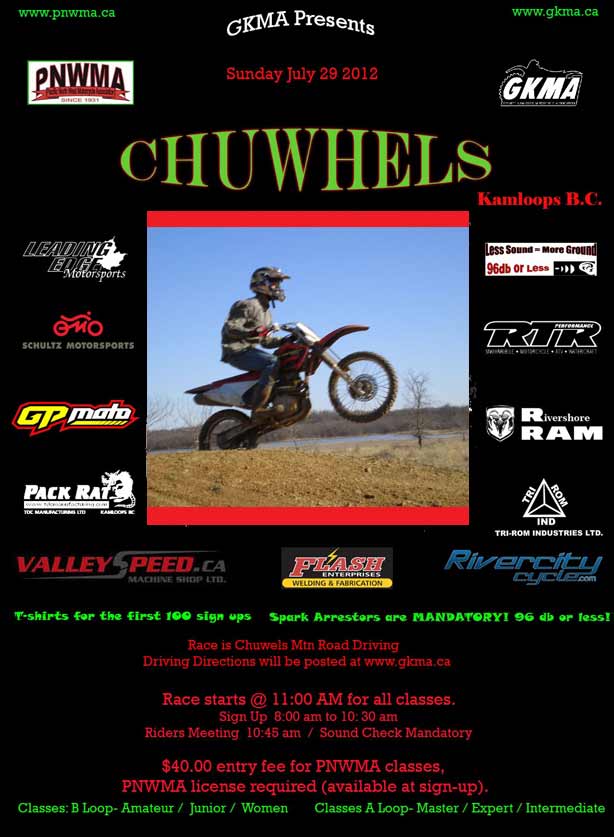 Rivershore Family Day February 19 2012: The staff go tubing on a local snow covered hill, fun was had by all. The snow was courtesy of the blizzard the previous week.




In 2012 we start the year off quickly by sponsoring Corryn Brown, and her team members Erin Pincott, Samantha Fisher and Sydney Fraser, in local and regional curling contests and we look forward to Corryn joining the mixed curling team at the World Youth Olympics at Innsbruck, Austria from January 13 to 23rd as part of the Canadian curling team.
Additional Great News! Corryn has been chosen as the flag bearer for Team Canada at the World Youth Olympics.


The Corryn Brown rink won the 2013 Junior Canadian Nationals this past weeknd in Fort McMurray, AB. The team will now be competing in Russia at the World Junior's. Good Luck girls!

UPDATE (January 18, 2012) - Team Canada's third Corryn Brown, skip Thomas Scoffin of Whitehorse, lead Emily Gray of Prince Edward Island and second Derek Oryniak of Winnipeg won bronze. Corryn Brown and the Canadians beat Sweden 6-4 in the bronze-medal tilt on Wednesday, Jan. 18.

Corryn has been doing a lot of curling on the 4 member team that played in the provincial junior women's tournament in Victoria December 27th to 31st 2011, and also at a high school playdown in Penticton. In 2011 the team of Corryn, Erin, Samantha and Sydney successfully defended their B.C juvenile women's curling championship in Nanaimo (March) and won gold at the Canada Winter Games in Halifax (February). She plays regularly in Kamloops at the curling super-rink on Monday nights with her teammates. We wish all of the team members good luck in their upcoming games.


Fans show their support at Innsbruck





Update Nov 2012 - The Corryn Brown team was at it again over the weekend winning another bonspiel. This time the ladies were competing in the 54th annual Kami Business Girls Bonspiel placing first in the "A" event. Congratulations ladies!!


In 2011 we are happy to have supported these community programs and our neighbours.

Kamloops Christmas Cheer Fund-

Pack the Patriot 2012 is in full swing at the dealership! If you would like to make a donation we are accepting new unwrapped toys, non-perishable food items, as well as cash and cheque donations.


We accepted donations of toys, food and money for the Kamloops Christmas Cheer Fund and the Kamloops SPCA.


With the support of staff and customers we were able to present to the Kamloops SPCA a check of $1,420.00 as well as delivering to the Kamloops Christmas Cheer Fund many donated gifts of toys and food.
Rivershore Ram has been participating in this seasonal donation drive for many years and are very proud that our efforts to bring some seasonal relief to our neighbours is well received.


- We also held, at the same time, our annual "Pack The Patriot" drive for toys and food donations for the Kamloops Christmas Cheer Fund and the Kamloops Food Bank. Every year we invite staff and customers to drop off unwrapped toys and food for our neighbours that may otherwise have a bleaker Christmas. As you can see in the photo below, this year was a "packing" success!





Brides Gone Wild For A Cure

- In support of the Canadian Juvenile Diabetes Research Foundation and the Mikayla fundraising efforts we were able to help raise over $11,000.00 in a few short weeks during the spring of 2011. You can find additional information about this fundraiser on our Facebook Page.